ABOUT KIAF
KIAF is the top event in the advertising in Ukraine and one of the leading European festivals in advertising that took place in Ukraine for last 21 years since 2000.
INTERNATIONAL FESTIVAL
KIAF is open to all companies and organizations involved in advertising, production, media, PR, design and creative industries throughout the world, including advertisers, media companies etc. The festival is international, entries are accepted from participants from all countries of the world.
The annual event brings together entries from leading communications agencies of Eastern European countries, Baltic states & other European countries.
INTERNATIONAL JURY
The core thing of festival is the jury members that are recognized world experts in advertising and creativity, professionals of international level.
TEST DRIVE BEFORE CANNES LIONS
The festival format, contest rules and technique requirements and fully meet international standards.
That's why KIAF is a kind of test drive of works before participating in the international advertising festivals/contests.
KIAF is the good place for the creative industry to gather, network, exchange ideas, and collaborate with colleagues.
In 2021 KIAF will be held for the 22nd times, on May 26-28 in Kyiv. It is part of the contests program Ukrainian Creative Awards, which takes place at the event Ukrainian Creative Stories
KIAF competition is divided into 4 main sections:
· CREATIVE COMMUNICATIONS
· CRAFT/TECHNOLOGY
· POSITIVE CHANGE
· CLIENT`S VIEW
Each section is subdivided into contests and categories that reflect key directions in the advertising and creative industry.
All sections are judged by Juries, featuring top industry professionals.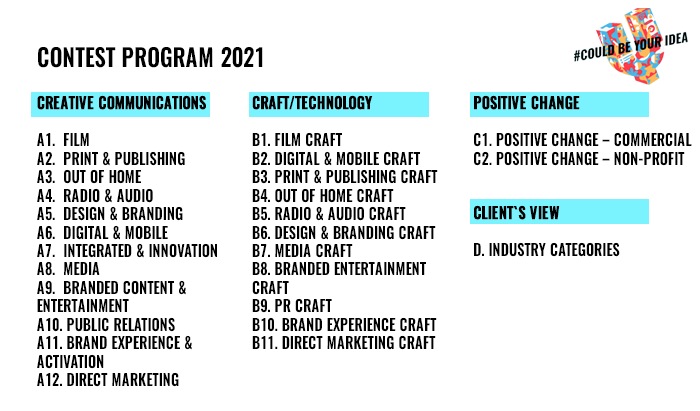 Creative Communications is focused on the big creative idea in different disciplines.

Craft/Technology section is recognized creative excellence and brilliant execution in some of the key segments of advertising and communication production process.

Positive Change is rewarded and celebrated the brands and non-profits that are promoting the greater good through marketing communications.
Client`s View is evaluated industry projects and award creativity, originality of communication solution with account of its results to solve business tasks.
RANKINGS
The festival is included in the National creativity and craft ranking 2021 in Ukraine.