Jury team of Positive Change at KIAF 2021
Positive Change of Kyiv International Advertising Festival has been allocated to a separate block, within which the winners will be awarded and the Grand Prix for the best project will be determined. Judges of the new Positive Change block will evaluate creative communications that have a positive impact on the world.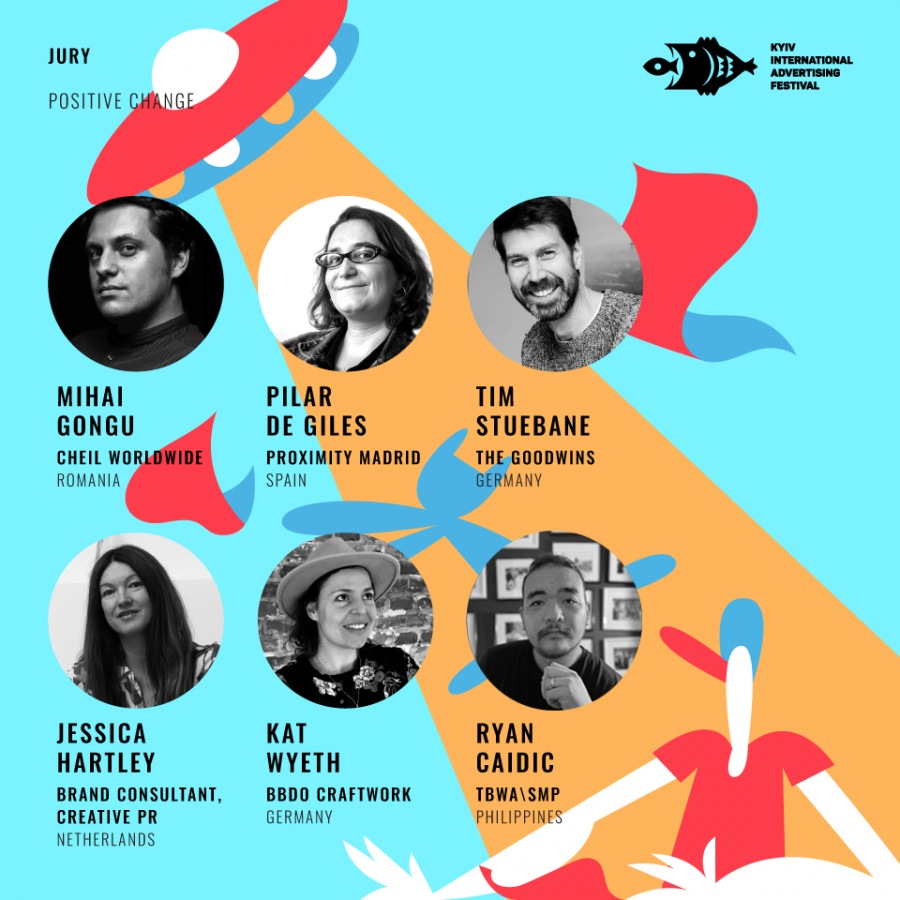 The jury team includes:
Mihai Gongu, Executive Creative Director SEE, Cheil Worldwide, Romania
Pilar de Giles, Creative Director, Proximity Madrid, Spain
Tim Stuebane, Co-founder and CCO, THE GOODWINS, Germany
Jessica Hartley, Brand Consultant, Creative PR, Netherlands
Kat Wyeth, Production Director, BBDO CraftWork, Germany
Ryan Caidic, Creative Director, TBWA\SMP, Philippines
The Positive Change block was created for social responsibility campaigns aimed to address social, ethical and environmental issues. Advertising communications, designs and initiatives should encourage and affect changes in attitude, perception or behavior which will ultimately have a positive impact on the world.
The block contains two contests:
1. Commercial - creative communications created by or for brands.
2. Non-Profit - creative communications created by or for public organizations, charities, non-profits.
These contests include all types of media.
The Organizing Committee has already announced jury members of such contests as:
Brand Experience & Activation, Public Relations, Direct Marketing, PR Craft, Brand Experience Craft, Direct Marketing Craft
Digital & Mobile, Media, Branded Content & Entertainment, Media Craft
Film, Radio & Audio, Integrated & Innovation, Radio & Audio Craft
Design & Branding, Print & Publishing, Out Of Home, Design & Branding Craft, Print & Publishing Craft, Out Of Home Craft
Film Craft, Branded Entertainment Craft
Last jury teams will be announced soon.
Do not delay your submission. The second deadline expires on April 5.
Register your work at kiaf.com.ua